Porcelain Veneers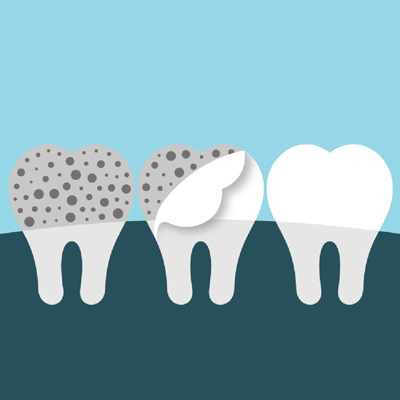 A porcelain dental veneer is a cosmetic restoration that we bond to the front of your teeth to improve their:
Size
Colour
Shape
Overall appearance
Veneers can be placed on any of the teeth in your "smile zone" to make up for aesthetic irregularities such as wear, staining or misshaped enamel.
If you don't like the look of your teeth, but they're otherwise healthy, then porcelain veneers are an excellent investment. They're physically similar to the way an artificial fingernail is bonded over your finger. Behind each one is a functional, healthy tooth.
Why We Choose Porcelain
Porcelain veneers offer the best aesthetic results for teeth that are consistently visible. If you're talking and smiling, you want your front teeth to look as natural as possible. The molecular makeup of porcelain has a different hue and translucency than other materials, helping it to better resemble a healthy tooth structure.
Alternatives to Porcelain
After Care for Your Veneers
What to Expect
Getting porcelain veneers is usually a two-visit treatment process. After your initial consultation and smile design, we'll book you back to have your teeth prepped. At that time, we'll slightly reduce the thickness of the teeth getting veneers, take an impression and then apply temporary veneers while your custom ones are being made by our ceramist.
About two weeks later, you'll return for us to remove the temporaries and permanently bond your porcelain veneers into place.
Please note that if you have a gum infection or active cavities, you will need to have those addressed before beginning any type of cosmetic treatment.
WHAT CAN VENEERS DO FOR YOU?
Contact us to book a porcelain veneers Margaret River consultation today. You'll see what's possible with our custom-designed aesthetic options.
* Any surgical or invasive procedure carries risks. Before proceeding, you should seek a second opinion from an appropriately qualified health practitioner.

Porcelain Veneers Margaret River, Busselton, Augusta WA | 08 97852828